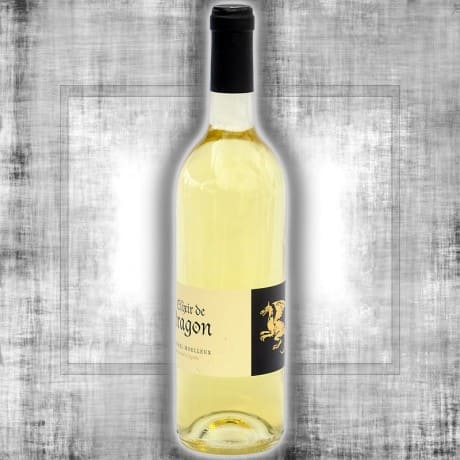  
Mellow meadow "Elixir de Dragon" 75cl
Tax included
(€17.28 litre)
En quelques mots
This mead is made from a selection of the best honeys and in the tradition of the master hydromasters who have put all their know-how and attention.
The soft melt obtained, named Elixir de Dragon, is eaten very fresh, pure or as a cocktail, as an aperitif or as an accompaniment to foie-gras, white meats and chocolate or fruit desserts.
New recipe: sweeter ! 60g / l of sugar instead of 40g before!
A long time ago, long before the coming of men, there lived somewhere on earth the most extraordinary and powerful creature ever: Celestinus, the magic dragon with golden scales. This one had been on earth since time immemorial, watching tenderly on each flower and each animal. He maintained a natural equilibrium with an infinite accuracy between all living beings, animating with a breath of life each being born.
Centuries and centuries went by in peace and prosperity. It was a peaceful and pleasant time until the day Celestinus met the first human beings who had populated the planet and abused its riches. Celestinus possessed prodigious strength and intelligence, but above all a great ambition. Yet he knew he could not act alone to rally men to his noble cause.
He decided to conclude a pact with the sentinels of our planet: the bees. Our dragon was a solitary creature, but since the dawn of time, he and the bees have devoted themselves to friendship and mutual aid. Celestinus thus offered them his strength and his powers: He gave them his precious tears, the purest of juices which contained his infinite power of protection and was able to retire in peace, reassured of the mission he had entrusted to the valiant bees.
Since then, they have been helping plants to grow and multiply. In exchange, they draw the wonderful golden nectar which men are so fond of and transform into mead. By tasting it the man is inspired by the powers of Celestinus and helps the bees in their noble mission. This story is so beautiful that it inspired us to create our legendary perfume mead: Dragon Elixir.
Data sheet
Volume

.75cl

Alcool

16% Vol
Reviews about this product

Show attestation
9.6/10

Based on 12 reviews
bon produit que je connaissais déjà

Bon hydromel, bon goût sucré, ça sent fort le miel, c'est la première fois que je goûte de l'hydromel et je suis très satisfait de cet Elixir de dragon.

Je n'ai pas encore goûter mais la bouteille est très jolie Merci

Excellent pour l'apéritif.

Un très bon produit, j'avais déjà goûté le produit je recommande
Customers who bought this product also bought:
On our website we offer several varieties of meads and Chouchens. Mead, this alcoholic drink made from honey, depending on the sugar concentration...
Read more