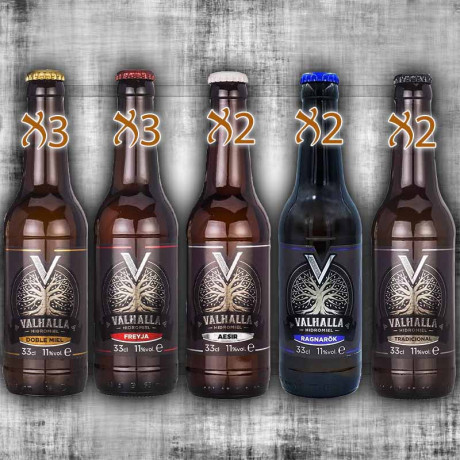  
Assortment of 12 Valhalla meads 33cl n°2
En quelques mots
Discover Valhalla Meads in 33cl - Batch of 12 bottles: An experience to share with friends!

Looking for an original drink to liven up your evenings with friends? Look no further! This assortment of 12 bottles of Valhalla Meads in 33cl is the perfect solution for moments of sharing and conviviality.

With our 12-bottle set, you can explore the full range of Valhalla meads and invite your friends to a memorable tasting experience. Each bottle represents a unique flavour, from sweet and fruity to bold and spicy.

Imagine yourself, surrounded by friends and family, sharing these Nordic delights.  This assortment of Valhalla meads in 33cl, composed by us according to the best sales on the site, allows everyone to discover and appreciate the different flavours at their own pace, creating lively discussions and moments of complicity.

What's more, in addition to this 12-bottle set, we offer other assortments so you can offer your guests a tailor-made taste experience. Whether you want to surprise them with exotic flavours or treat them to timeless classics, Valhalla Meads will meet all their expectations.

Valhalla Mead in 33cl is much more than just a drink. It's a real catalyst for precious moments with friends, a bond that strengthens ties and creates unforgettable memories.