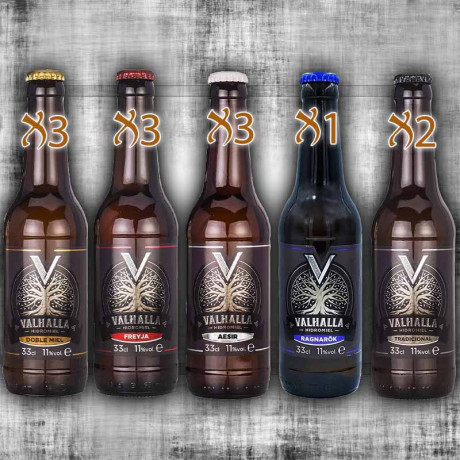  
Assortment of 12 Valhalla meads 33cl n°3
En quelques mots
Valhalla Mead in 33cl - Assortment of 12 bottles: A taste journey to discover the whole range!

Curious to discover the many flavours of Valhalla meads? Then look no further! The set of 12 bottles of Valhalla Meads in 33cl is the perfect opportunity to discover our complete range.

Each 33cl bottle is an invitation to a unique taste journey. From soft, delicate flavours to intense, bewitching notes, you'll have the opportunity to explore the full richness of Valhalla Meads.

Our pack of 12 bottles allows you to put together your own tasting session and create a personalised experience. Taste them individually to appreciate every subtlety, or share them with friends and family at a convivial tasting.

What's more, the 33cl format makes it easy to take these Nordic delights with you to social gatherings and special events. Valhalla Mead in 33cl is designed to be enjoyed with friends, creating unique moments and lasting memories.

Get ready to discover a range of exceptional flavours with our pack of 12 bottles of Valhalla Meads in 33cl. Let yourself be carried away by the Nordic legends and immerse yourself in a world of divine delights.