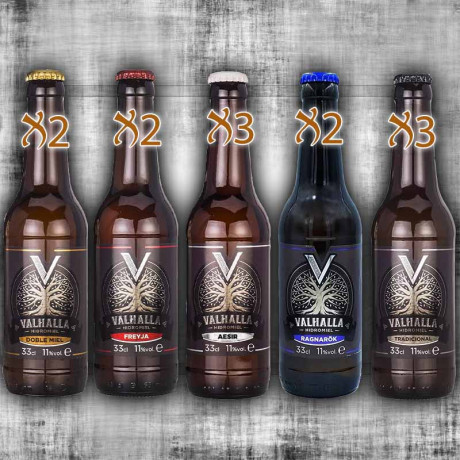  
Assortment of 12 Valhalla meads 33cl n°4
En quelques mots
Valhalla Mead 33cl - Batch of 12 bottles: A taste adventure as an aperitif!

Are you looking for an original drink to liven up your aperitifs with friends? Then look no further! The 12-bottle pack of Valhalla Meads in 33cl is the ideal accompaniment to your convivial evenings.

With our 12-bottle pack, you can discover the full range of flavours that Valhalla meads have to offer. Each bottle is an invitation to a unique taste journey, from sweet and fruity to more intense and spicy.

Imagine yourself, surrounded by your friends, enjoying these Nordic delights during your aperitifs. Valhalla Meads in 33cl offer everyone the chance to discover and appreciate the different flavours at their own pace, creating a convivial and rewarding experience.

What's more, with our 12-bottle pack, you can easily surprise your guests with a varied selection of flavours. Whether it's to satisfy the sweetest palates or to challenge the most intense sensations, Hydromel Valhalla has a bottle for every taste.

Let yourself be seduced by the originality of Valhalla Hydromels in 33cl format during your aperitifs with friends. These small bottles allow you to create a unique experience, rich in flavour and sharing. Make every aperitif a memorable taste experience with our pack of 12 bottles of Valhalla Meads.