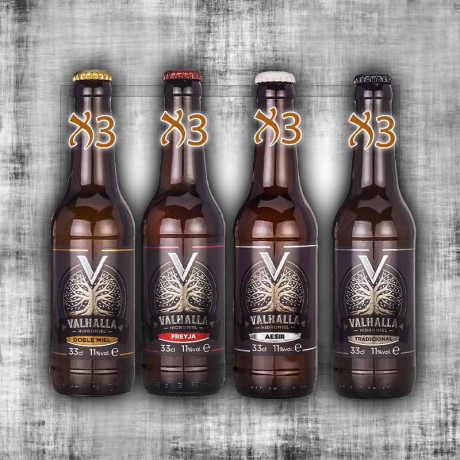  
Assortment of 12 Valhalla meads 33cl n°5
En quelques mots
Discover the diversity of Valhalla meads in 33cl format with this pack of 12 bottles!

Are you looking for a rich and varied taste experience to share with friends? Then look no further! The 12-bottle pack of Valhalla Meads in 33cl is the perfect way to discover the full range of flavours we have to offer.

This pack is made up of 12 bottles, and the assortment of flavours is a combination of the best-selling Valhalla meads on our site. From sweet fruity notes to rich spicy aromas, our complete range takes you on a sensory journey to the heart of Nordic legends.

Organise a tasting with friends and let yourself be seduced by the diversity of Valhalla meads. The 33cl bottles are perfect for sharing these convivial moments, allowing everyone to discover and appreciate the different flavours at their own pace.

What's more, with this pack of 12 bottles, or the others on our site, you can easily put together your own personalised assortment and create a unique experience for your guests. Whether you prefer sweet, fruity, spicy or mild flavours, you'll find what you're looking for in our range of Valhalla meads.

As well as being ideal for tasting with friends, the 33cl format is perfect for aperitifs. Its refined taste and subtle notes make it an excellent option to accompany your small snacks during convivial evenings.

So get ready to explore the richness of Nordic flavours with our assortment of 12 bottles of Hydromesl Valhalla in 33cl. Invite your friends to share this unique experience and immerse yourself in the legendary world of Valhalla Mead.