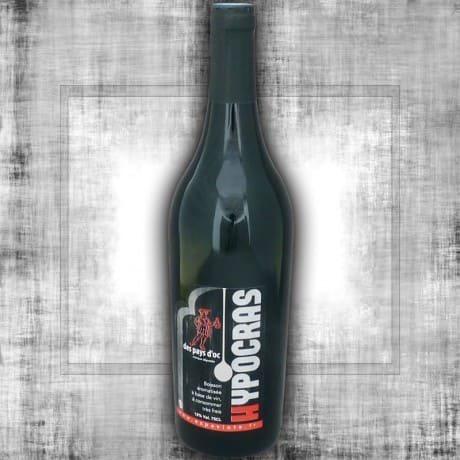  
En quelques mots
Hypocras is a medieval wine and digestive stimulant, prepared according to the recipe of Taillevent Guillaume Tirel, master chef of the famous King Charles VII, François Rabelais and various books dating from the thirteenth century to the XVI th based of red wine, spices and honey.
Hypocras in the Middle Ages, was used in large feasts and was then regarded as a wonder of having met the strength of the wine with the sweetness of honey and spice flavors.
Today hypocras should be drunk chilled as an aperitif or dessert wine. The manufacturing of hypocras remains, despite the growing success, completely natural and handmade. Its originality, its surprising flavors, its alcoholic soft (12 °), were very surprising! A great discovery and an excellent aperitif.
Hypocras is made with wine, Cinnamon, Ginger, Cardamom, Nutmeg, Mace, Honey, Rose Water, Sugar, Orange.
Data sheet
Volume

.75cl

Alcool

12% Vol

Composition

Vin, Cannelle, Gingembre, Cardamome, Muscade, Macis, Miel, Eau de Rose, Sucre, Orange.
Reviews about this product

Show attestation
9.6/10

Based on 20 reviews
Tout le Moyen-Age dans votre hanap

Excellent hypocras, très équilibré.

Délicieux , on recommandera!

Plus en accord avec mon palais

L'hypocras avait un goût relevé agréable (peut être un peu trop de gingembre toutefois?)
Customers who bought this product also bought: