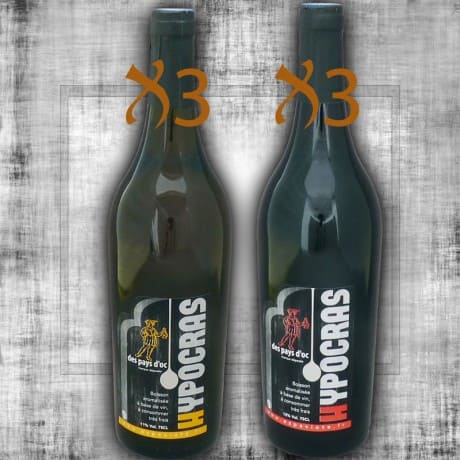  
Set of 3 white and 3 red hypocras
Tax included
(€14.00 litre)
En quelques mots
Set of 3 red and 3 white hypocras.

€ 9.40 per bottle - Save 6% (price per bottle).
Data sheet
Volume

6x75cl

Alcool

11 et 12% Vol
Reviews about this product

Show attestation
9.2/10

Based on 10 reviews
Les poires cuisinées à l'Hypocras rouge étaient un vrai délice ?

Livraison rapide, cela est parfait. Le produit est cependant à discuter. Forte proportion d'épices, brulant presque la gorge pour le blanc... proportions à retravailler selon moi.

Merchant's answer

Nous prenons en note votre avis. Les hypocras sont effectivement confectionnés avec des épices (gingembre notamment) et la sensibilité de chacun à ces produits est bien sûr différente. D'une manière générale ils sont appréciés justement pour leur coté épicé original. N'oubliez pas : pour les apprécier totalement, de les consommer bien frais. Si toutefois vous les trouvez toujours trop épicés à votre gout, nous vous conseillons de vous orienter vers les Coulindum ou Moretum qui sont beaucoup plus doux (sans épices).

Tres bon juste un peu trop épicé

Merchant's answer

Il faut penser à déguster les hypocras bien frais pour apprécier le contraste des épices. Les retours sur le dosage des épices est en général bon mais il est vrai que chacun apprécie différemment le produit selon son palais.

Vins trés bons et trés appréciés par les invités.
Customers who bought this product also bought: