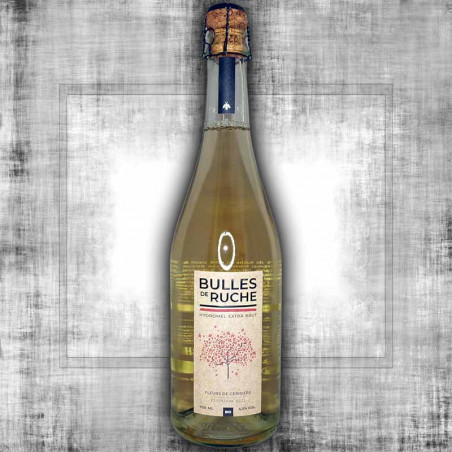  
Sparkling mead extra brut Cherry Blossom Honey ORGANIC 75cl 4,5% Vol
En quelques mots
Bulles de Ruche Fleurs de cerisiers is an organic Extra-Brut mead made from organic cherry tree honey (organic honey controlled and certified by the Ecocert organisation) harvested in the Piedmont orchards.

This cuvée is characterised by intense aromas of cherry, rhubarb and honey.

On the palate, there is a characteristic acidic touch, similar to that found in Lambic beers.
Bulle de ruche Cerisiers is an "extra brut" mead. It is a lightly alcoholic drink (4,5% Vol), sparkling and natural, resulting from a pure fermentation of cherry blossom honey.

Extra brut and sparkling, it can be drunk chilled as an aperitif or at festive events.

The aromas of Lavender Hive Bubble are expressed as follows:
On the nose: aromas of red fruits: cherry, red fruit tea.
To the palate: a tangy texture reminiscent of sweets, with a long finish of red fruit.
Aromatic intensity: Medium.
Data sheet
Volume

.75cl

Alcool

4.5% Vol

Composition
Customers who bought this product also bought:
On our website we offer several varieties of meads and Chouchens. Mead, this alcoholic drink made from honey, depending on the sugar concentration...
Read more