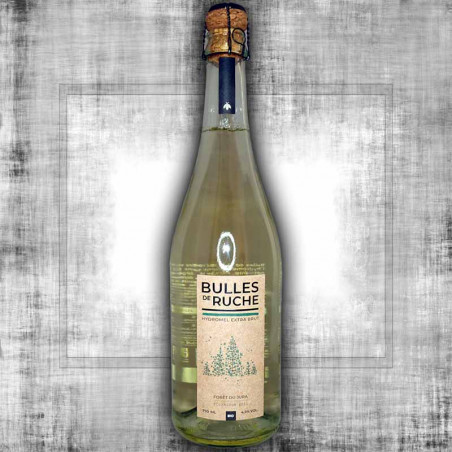  
Organic Jura Forest Honey Extra Dry Mead 75 4,5% Vol
En quelques mots
Bulles de Ruche Fleurs de montagne du Jura is an Organic Extra-Brut mead made from honey harvested by the Jura cooperative.

The lightness and delicacy of this cuvée is due to the aromas of flowers and plant essences foraged by bees in the heart of the Jura massif:
bramble
basswood
acacia
hawthorn
dandelion
or fir tree
The finish is on aromas of wild strawberries.
The organic honey used to make this cuvée comes from French fair trade certified Agri-ethics, which is committed to:
the fair remuneration of producers
respect for bees and the consumer
and supports sustainable and reasoned beekeeping.
Bulle de ruche Organic Jura Forest Honey is an "extra raw" mead. It is a slightly alcoholic drink (4.5% Vol), sparkling and natural resulting from a pure fermentation of flower honey harvested in the forest in the Jura.
Extra raw and sparkling, it is drunk chilled as an aperitif or during festive events.

The aromas of Organic Jura Forest Honey Beehive Bubble are expressed as follows:
On the nose: aromas of undergrowth, pine. Floral and botanical aromas of the elderflower type.
On the palate: elderflower, honey and toasted bread
Aromatic intensity: Medium
Data sheet
Volume

.75cl

Alcool

4.5% Vol

Composition
Customers who bought this product also bought: