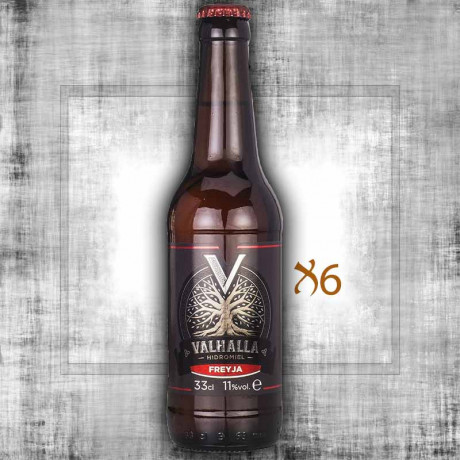  
Hydromel Valhalla Freyja 33cl per 6
En quelques mots
Pack of 6 Valhalla Freyja meads 33cl.

Valhalla Freyja mead in 33cl bottles: the essential companion for your picnics! Set off on an outdoor adventure with our 33cl bottles of mead, the perfect choice for picnics with friends. Their practical format fits easily into a basket and offers a refreshing drink to enjoy in the sunshine. Whether you choose a traditional mead or the fruity Valhalla Freyja variant, these bottles let you enjoy the sweet taste and intoxicating aromas of mead, while enjoying nature and the company of your loved ones.
This mead is a tribute to Freyja, one of the greatest goddesses of Nordic and Germanic mythology, who incarnated Love, Beauty and Fertility.
Its intense pink colour is obtained through a long maceration of red fruits and a filtration in several phases which gives it a crystalline aspect.
Freyja mead has a delicate aroma of red currants and cherries.
The sweetness balanced by the acidity of the macerated berries provides a light and fresh mouthfeel, with a pleasant and lingering finish.
As fresh as a rosé wine, this mead is perfect with a light meal, such as pâtés, soft cheeses, grilled fish or pasta. It can also be enjoyed on its own as a prelude to a romantic evening.