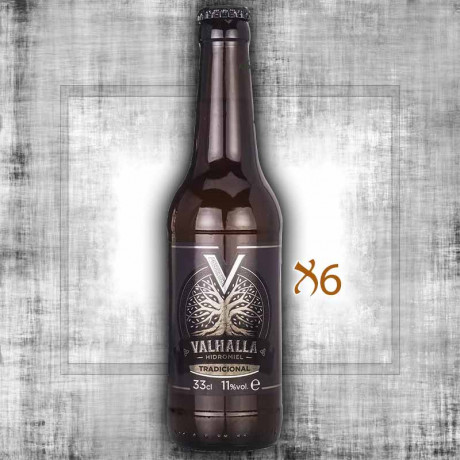  
Mead Valhalla Tradicional 33cl per 6
En quelques mots
Pack of 6 Valhalla Tradicional meads 33cl.
Valhalla Tradicional mead in 33cl: a taste experience to share or enjoy on your own! Whether you're in the company of friends or prefer to enjoy mead on your own, the 33cl bottles are perfect for all occasions. Their versatile format means you can share these sweet delights with friends and family over a convivial aperitif, or enjoy a glass of mead in the comfort of your own home. Savour the rich aromas, the sweetness of the honey and the age-old history of this fascinating drink, whether in good company or as a well-deserved break from the world of taste.
Valhalla Tradicional mead is inspired by the drinks consumed by the Vikings, such as King Ragnar Lodbrok.
Neither filtered nor clarified, this handcrafted product has a cloudy straw melon colour and a slightly fruity aroma reminiscent of natural cider.
With its mild, semi-dry flavour and low persistence, it does not tire the palate.
This delicious mead can be enjoyed on its own or as an aperitif with tapas, cold meats and cheeses, and goes well with full-fat cheeses such as Gouda.