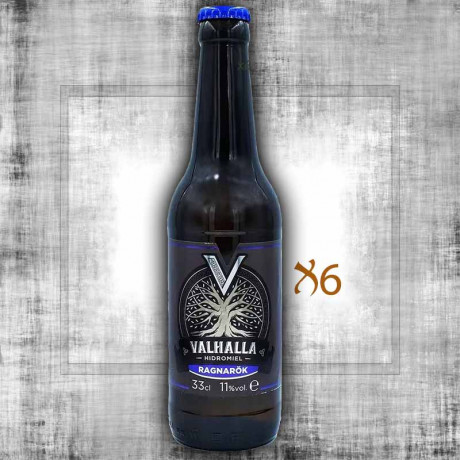  
Med Valhalla Ragnarok 33cl per 6
En quelques mots
Pack of 6 Valhalla Ragnarok meads 33cl.

Discover Valhalla Ragnarok mead in 33cl bottles: a moment of pleasure on your own! Take a moment to yourself and enjoy a mead in a 33cl bottle in complete tranquillity. Whether you want to relax after a long day at work or simply take a well-deserved break, these small bottles let you enjoy mead at your own pace. Let the sweet, bewitching aromas envelop your palate and enjoy the velvety smoothness of this age-old drink. Treat yourself to a moment of pleasure and relaxation on your own with these practical mead bottles.
Valhalla Ragnarök is an exceptional artisanal mead, named after the myth of the end of time in Nordic and Germanic mythology.

Its luminous amber colour offers intense aromas of honey and caramel, with subtle notes of spice and vanilla.

On the palate, it reveals a smooth, creamy texture, with rich, complex flavours.

Perfect with a variety of dishes or to enjoy on its own, every sip is a tribute to traditional craftsmanship.