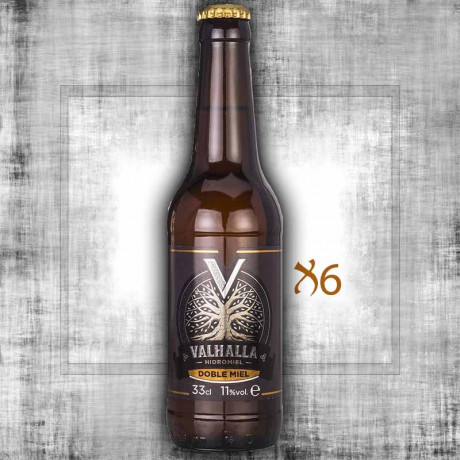  
Mead Valhalla Doble Honey 33cl per 6
En quelques mots
Pack of 6 meads Valhalla Doble Honey 33cl.
Ideal for an aperitif with friends or to take on a picnic, for example.

Combine with the other products in the Valhalla range.
Valhalla Double Honey, was also called honeydew in ancient times.
Made from a large quantity of natural honey, this mead reveals an intense "old gold" colour, with a brilliant shine.
Its strong floral aroma is due to the origin of the honey used, while notes of dried figs and sultanas can also be detected.
This delicious flower-flavoured mead has a sweet, fresh honey taste that never becomes overpowering, yet has a lingering intensity. In addition to its ability to enhance desserts, it is also a perfect match for goat's cheese spread generously with jam.