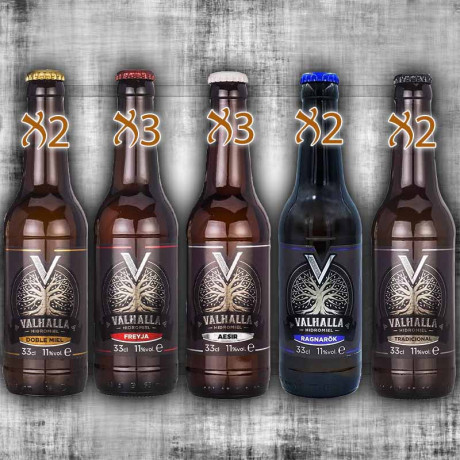  
Assortment of 12 Valhalla meads 33cl n°1
En quelques mots
Valhalla Meads in 33cl - Assortment of 12 bottles: The ultimate discovery of the take-anywhere range!

Looking for a drink to take with you on picnics and outdoor outings? Then look no further! The 12-bottle pack of Valhalla Meads in 33cl is the perfect companion for all your adventures.

With our 12-bottle pack, you can discover the full range of Valhalla meads and enjoy a variety of unique flavours. Each bottle transports you to the enchanting world of the Vikings, revealing subtle aromas and delicious notes with every sip.

The 33cl format is practical and easy to take with you on your outdoor picnics. Slip a few bottles of Valhalla meads into your bag and set off on an adventure, savouring these Nordic delights amidst magnificent scenery.

What's more, our 12-bottle pack gives you the chance to mix and match, with more available. Choose from our different flavours and create your own taste experience, tailored to your preferences and those of your travelling companions.

Valhalla Mead 33cl is much more than just a drink to go. It's an invitation to explore new taste sensations, to escape into a mythical world and to create unforgettable memories during your outdoor escapades.

Get ready to discover the magic of Valhalla meads with our assortment of 12 bottles in 33cl format. Embark on an exceptional tasting adventure and let yourself be enchanted by the unique flavours of Valhalla Meads, wherever you go.